GE is a name that American families have trusted for generations, you can rest assured that you'll love these appliances for years to come. All GE appliances are made with good quality and unique design, they come in all shapes and sizes to fit the needs of home cooks and professional chefs. These refrigerators have it all in terms of beauty, style, and elegance but they never compromise on their functionality. GE produces full size refrigerators and freezers, compact refrigerators, fully integrated refrigerators, and other styles and designs that can meet a myriad of needs. GE offers several appliances brands for different tastes and different budgets. GE Profile Series, GE Café Series, GE Artistry and among them there is GE Monogram Series – top-performing, luxurious appliances. These refrigerators are the cream of the crop and they work remarkably well but they do need a little help from their owners if they are to stay in tip top shape. After all, these machines pretty much run themselves but if they do not get some TLC then they will develop problems which means having to make a call for GE-Monogram Refrigerator Repair services.
Maintaining your refrigerator is a fairly easy job if we do say so ourselves. The important thing is you stick to a schedule and maintain if regularly because by doing so, you actually prevent problems and also it becomes easier to spot potential problems before they get bigger and become more difficult for refrigerator repair services to fix.
Below are some tips on how you can maintain your refrigerator on your own. These steps are very easy to do and should take no more than several minutes of your time.
Clean the condenser coils twice a year – The coils are the very pieces that remove the heat from inside the refrigerator and the freezers. They are very easy to spot as they look like large radiator-type coils that are located either beneath or the back of the unit. The thing with these coils is that dirt tends stick to them and when they are coated in dust and dirt, they fail to do their job efficiently. All you need is a long-handled bristle brush to clean the dust and dirt off and you should be good. We advice you to read the user's manual that comes with your GE Monogram refrigerator to learn how the coils are to be cleaned.
Clean and replace the gasket –Confused as to what the gasket is? It is that rubber seal that outlines the doors of the GE Monogram refrigerators. Years of experience has taught us that this part of the refrigerator is often overlooked and that is a shame since it plays a huge part in sealing out warmth from the outside. If the refrigerator is brand new, we advise you to clean it from time to time using universal cleaners but they do need to be replaced after some time because they weaken and no longer seal the refrigerators as efficiently as they ought. In fact, we have found that it takes several years for them to weaken and when that that happens, you can call on us for help and we will do the replacing for you so that you do not have to worry about doing the job wrong. Do not worry, they are quite cheap and very easy to replace so you shouldn't have to suffer too long without your refrigerator.
Replace the filters for the water or ice dispenser – We recommend a filter change every six months. Some GE refrigerator models have a replacement indicator light for the water filter cartridge on the dispenser. Consult your owner's manual for specifics for your refrigerator for more information. If you do not replace the filters, you could compromise not just the function of your refrigerator but the quality of your water and ice as well.
Sometimes things just go wrong and you cannot fix it on your own. If you notice that your GE Monogram refrigerator doesn't function as well as it should, you need to call on the appliance repair professionals and let us do what we were trained to do.
Calling the Pros for GE-Monogram Refrigerator Repair
Here at D&V Appliance repair we are trained to work with high end appliances like the GE Monogram refrigerators in your home and we have the certificates to prove it. Our techs train long and hard to deal with many appliances and we are proud to say that not only do we offer amazing repair services but our customer service is tops. Our clients not only get their appliances back in tip top shape but often, they are left with advice and knowledge on how to keep such things from happening in the future.
We provide repair and maintenance services for:
GE Monogram Refrigerators
GE & GE Profile Refrigerators
GE Café Series Refrigerators
GE Artistry Series Refrigerators
GE French Door Refrigerators
GE Bottom Freezer Refrigerators
GE Side-by-Side Refrigerators
GE Top Freezer Refrigerators
GE Wine Refrigeration & Beverage Centers
GE Compact Refrigerators
Our advantages:
• Quality Repair. Our technicians are professionals; they are experienced and well-trained to work with high-end appliances such as GE-Monogram. Of course, they are also properly licensed, certified and fully insured.
• Fast and Convenient Service. We guarantee that we can come for repair the same day you call. We will give you small 3 hours appointment window, call you when we are on our way and never be late for appointment.
• Free Estimate. Our diagnostic and estimate is free if you choose to do a repair with us. Before starting any repair job you will be given a written estimate for approval.
• 5 Year Extended Part Warranty. We extend manufacturer's warranty for 5 Years on any replacement part.
• Stocked Vans. We load our vans as much as possible with the most common GE-Monogram parts to be able to finish the repair right away in one trip.
• Flat-Rate Pricing. The price for repair has simple breakdown: Labor + Part + Tax. It's a flat fee, we never charge hourly for labor, we don't add any extra charges for emergency, late hours or weekends jobs.
Call us now and get your GE-Monogram Refrigerator Repaired today – 714-312-5968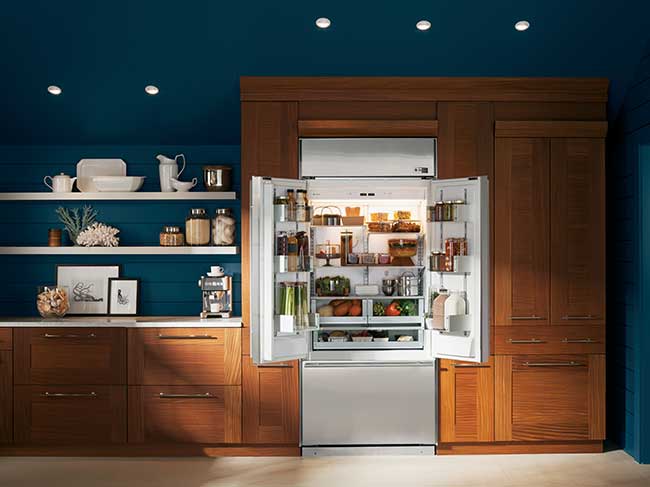 4.8 out of 5 stars

Reviews from our customers

about D&V Appliance Repair

Reviewer: Joseph Walker –

Great Appliance repair service in Orange County, they repaired my GE monogram refrigerator in no time. Very professional techs, friendly and polite and customer service, I wish they could do plumbing too…