Sub-Zero Refrigerator Repair Service in Orange County
We receive lots of calls from customers who are in need for Sub-Zero refrigerator repair. It doesn't mean that Sub-Zero appliances are poorly made. On the contrary, Sub-Zero Freezer Co is a brand known all over the world for its state of the art refrigeration appliances. Their products are loved for quality and reliability they provide combined with beautiful design and innovative technologies to keep food cool and perfectly preserved. Sub-Zero refrigerators have unique design as they have a dual compressor cooling system. There are two independent compressors for both refrigerator and freezer compartments. This feature allows refrigerator and freezer maintain accurate, consistent temperatures. Dual refrigeration keeps your food fresh longer than most of the other systems available on the market.
Sub-Zero refrigerators are very popular among Orange County residents and many kitchens are equipped with these wonderful appliances. But as any other appliances your Sub-Zero refrigerator requires good care and proper maintenance to service you longer.
Cleaning of condenser coils is the one thing you need to do on regular basis. These coils quickly become blocked with dust, pet hair and other particulates in the air. Dust and debris blocking the condenser coils will prevent an air circulation, causing compressor overheating and fan motor or defrost timer failure. Cleaning the coils regularly is the best to prolong life of your refrigerator and save you from costly repairs. You can buy a long brush and do it yourself or entrust it to professionals. If you decide to do it yourself, make sure that you turned the power off at the control panels before cleaning the condenser. Condenser coils in Sub Zero refrigerators are located not behind the refrigerator as in other refrigeration appliances but above the unit. You need to brush off all the dirt from the condenser and then clean the coils with your vacuum cleaner. When you are done make sure that there is nothing blocking the coils or the fan. This procedure needs to be done at least once a year.
If you noticed that your Sub-Zero appliances doesn't seem to be keeping your products a cold as usually, leaks water or shows other signs of malfunction, you need to call professionals. We highly recommend using professional services for all Sub-Zero repairs. Even though the problem might seem minor and easy enough to handle, actions of inexperienced person may make the situation worse, damage the unit and lead to much higher costs for repairs.
Calling D&V Appliance Repair you can be sure that you will have the same day, stress-free appliance repair service. We will schedule your appointment at the most suitable time for you and will come fully equipped for the job. The majority of essential replacement parts are carried in our vans to be available for installation immediately. You don't have to wait days for your refrigerator to start cooling again. In fact, more that 80% of repair jobs we do are completed on the first visit. Our repairmen are properly certified, licensed and insured to provide you the best Sub-Zero refrigerator repair service in Orange County, CA. They are extensively trained to repair all Sub-Zero models.
We provide repair and maintenance services for:
• Sub-Zero Refrigerators PRO series
• Sub-Zero Built-in Refrigerators
• Sub-Zero Under-counter Refrigerators
• Sub-Zero Freezers
• Sub-Zero Refrigerator Drawers
• Sub-Zero Wine-Coolers
• Sub-Zero Ice-Makers
Our advantages:
• Quality Repair. Our technicians are professionals; they are experienced and well-trained to work with high-end appliances such as Sub-Zero . Of course, they are also properly licensed, certified and fully insured.
• Fast and Convenient Service. We guarantee that we can come for repair the same day you call. We will give you small 3 hours appointment window, call you when we are on our way and never be late for appointment.
• Free Estimate. Our diagnostic and estimate fee of $65 will be waived if you choose to do a repair with us. Before starting any repair job you will be given a written estimate for approval.
• 5 Year Extended Part Warranty. We extend manufacturer's warranty for 5 Years on any replacement part.
• Stocked Vans. We load our vans as much as possible with the most common Sub-Zero parts to be able to finish the repair right away in one trip.
• Flat-Rate Pricing. The price for repair has simple breakdown: Labor + Part + Tax. It's a flat fee, we never charge hourly for labor, we don't add any extra charges for emergency, late hours or weekends jobs.
Call us now and get your Sub-Zero Refrigerator Repaired today – 714-312-5968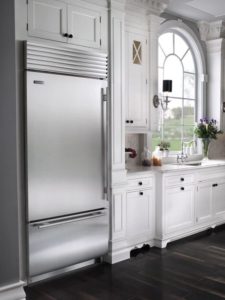 4.9 out of 5 stars

Reviews from our customers

about D&V Appliance Repair

Reviewer: Mario L. –

I had Alex come out to look at my Sub-Zero refrigerator as the refrigerator was not cold enough. Alex determined that there was a freon leak and also the old door seal were so worn out that the door didn't close properly. He replaced the seal and charged some freon, so now the refrigerator cools as it supposes to do so. Can highly recommend this service